Hallo daar!!
Can't read Dutch? Use Babelfish!
Leuk dat je even komt kijken hoe het met ons gaat op Curacao! Als ons internet het toelaat, ga ik jullie hier op de hoogte houden van ons leven op de Antillen. Als je wat wilt weten, dan kun je een reactie plaatsen, dan zal ik er in het volgende bericht wat over vertellen, maar zomaar een berichtje is natuurlijk ook leuk!!
Voor de mensen die GoogleEarth hebben: je kunt ons huis vinden op de coordinaten: 12°11'17.15"N 68°59'53.75"W
Enne, ook als je wat wilt zien, gewoon een berichtje plaatsen, dan zal ik proberen er een foto van te maken en die te plaatsen. Kijk trouwens ook regelmatig naar de oude logs op deze pagina, zeker als er eerst nog geen foto bij stond, want ik plaats er vaak pas later een foto bij, omdat die nog gemaakt moest worden of nog niet op de computer stond.
Complete!
Yes! The deed is done! The story about our South America trip is now complete, with pictures and all!
For the story, go to this page. And for all pictures, go here.
Updates
To make things easier for you, my dear readers, I will post here which days I´ve updated, and even provide you with a link to the page. Just click on the date, and you will be instantly taken to a new story, and of course you will all write a nice comment too.
You might have noticed the lack of pictures at the moment, but it´s often hard to find a computer with a USB-port, and even then the speeds are awful. I did manage to upload some pics, and you can find them here.
updated: may 12, 13, 14, 15, 16, 17, 18, 19 & 20: text & pics
updated: may 1, 2, 3, 4, 5, 6, 7, 8, 9, 10 & 11: text & pics
Thursday 22 May 2008 Lima - Curacao
's Ochtends moeten we vroeg op, want we vliegen om 6.10 weer naar Bogota, waar we aan transfer van 6 uur moeten door zien te komen. Als we dan eindelijk weer onderweg zijn, komen we rond 18.00 weer aan in Curacao.
Wednesday 21 May 2008 Cusco - Lima
Today starts our trip home with a flight to Lima, and after having checked back in in the hotel where we started a month ago, we go into town for groceries and lunch. Along the way we pick up a cd of Hombres G, whom we first heard in Aguas Calientes, and who sound kinda ska-ish, but then in Spanish.
Tuesday 20 May 2008 Urubamba - Cusco
After a quiet breakfast we walk along the road in the general direction of the busstation and after a few seconds we get a scootertaxi that takes us to the buses with vibrating speed. There we get a supercheap busticket to Cusco and within 15 minutes we're on our way.
The trip to Cusco takes about 2hrs, and the nearer we get to town, the more it gets filled up with uniformed kids going to school. Upon reaching the busstation we hail another cab to get us back to our hostal in San Blas. There we sort out our luggage, and head back to town for lunch.
After a pizza at Chez Maggy, we start the long climb up to the ruins of Sasqaywaman. Although the climb is beastly, the ruins are certainly worth it.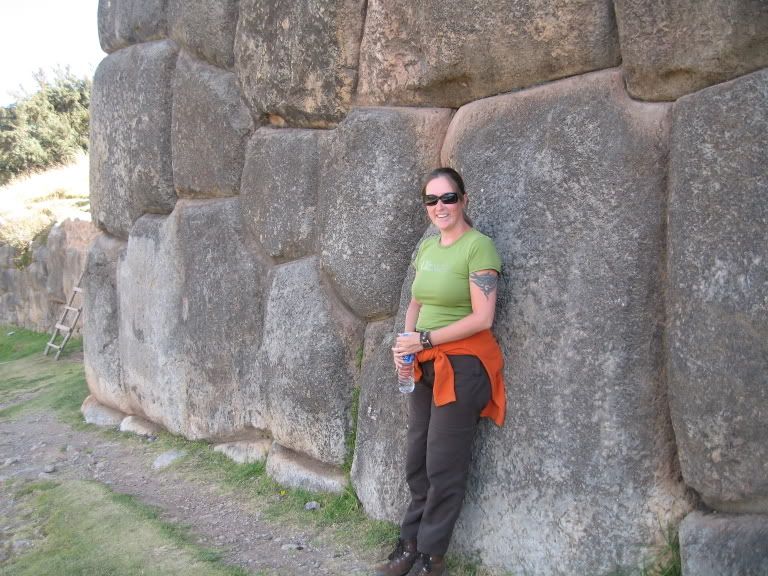 The site is huge, and some of the Inca stoneworks are very impressive, as well as the natural environment surrounding the ruins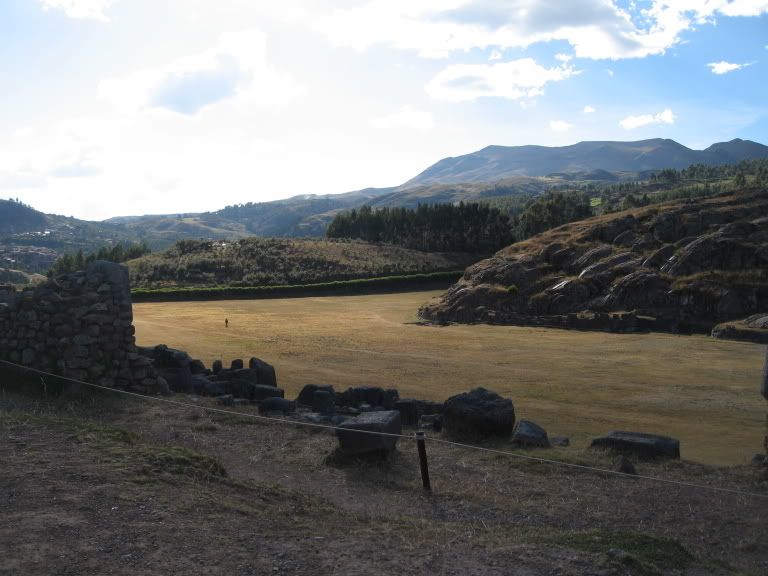 and the view over Cusco.
We spent some hours roaming the site, before getting a cab back down into the city. Since the room we got this time is the first one to have had a bath, I treat myself to a nice soak, before going out to dinner.
Monday 19 May 2008 Ollantaytambo - Urubamba
Today's plan was to visit the ruins of Ollantaytambo and then try to arrange some horseback riding trip for either today or tomorrow. So after a quick breakfast we walked to the ruins. At the entrance we were offered a guide, and after some thought we decided to take one. He took us through the ruins, and to be honest, we think they were much better than Machu Picchu. The best thing about Machu Picchu is the view and the location, in the clouds in the morning, but the ruins are not that special.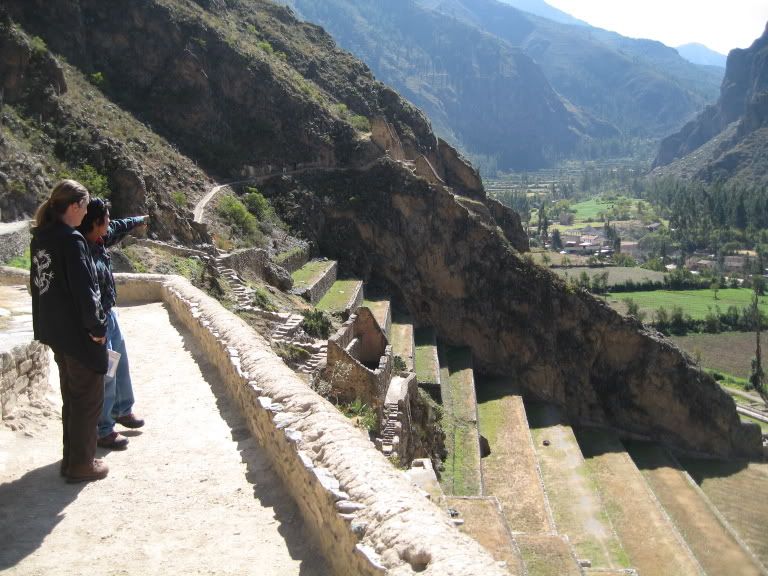 The guide told us a lot about the surroundings too, and he convinced us to take a trip to Pumamarka, an Inca military base in the mountains. So an half hour later we met him at the main square with a couple of huge Peruvian horses. The trip to the site took about 1,5 hrs climbing the mountain on narrow tracks at the edge of deep gorges. The views were spectacular though, as were the ruins.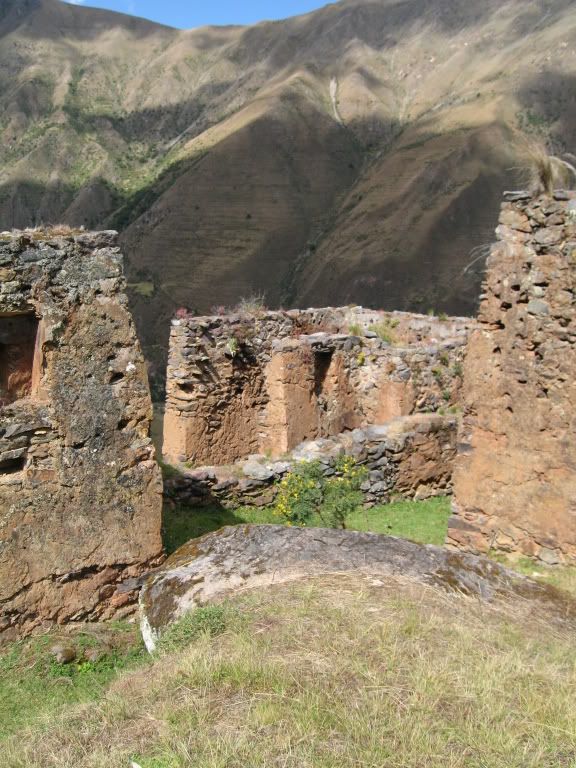 While visiting the ruins, we ran into a crew making a promotion film about the site, and since we were the only tourists there at that moment, they interviewed us. So we will be appearing at tour agencies across the country, telling how much we liked the horseback riding trip and the ruins.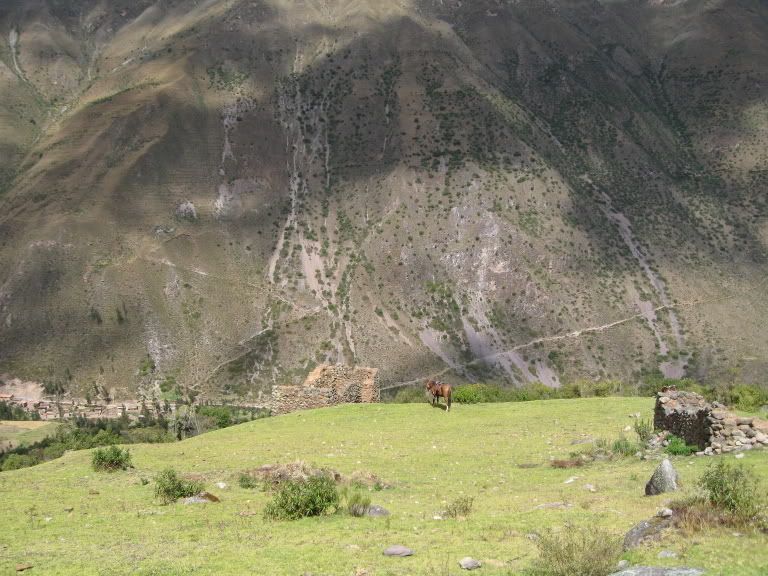 After this we went back to the town, following the same route we took up. Going down rocky narrow tracks along deep ravines is a lot scarier than going up!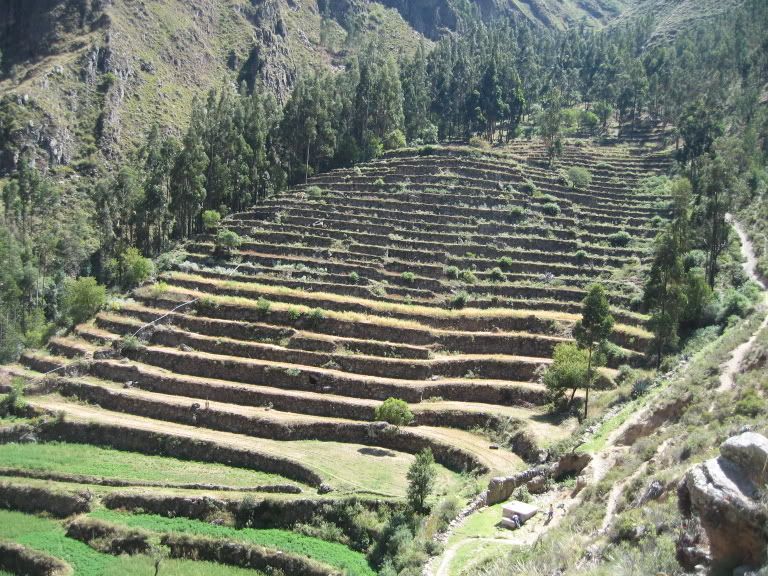 We got down in one piece though, and after saying goodbye to Marcus and Ollantay we got our bags from the hotel and grabbed a taxi to Urubamba.
In Urubamba is nothing much to do, only stay the night at our gorgeous hotel and tomorrow we will go back to Cusco.
Sunday 18 May 2008 Aguas Calientes - Machu Picchu - Ollantaytambo
At 4.30 the alarm goes off, so we can check out, have breakfast and be ready for the first bus up to Machu Picchu at 5.30. At the busstop we meet the Swiss couple that was also in our jeeptrip to Uyuni. Together we get on the very first bus, and in the dark we zigzag up the mountainside. As we reach the ruins, they're still closed, so we wait while it's slowly getting light around us.
When we can finally enter, everybody climbs up to the Hut of the Caretaker of the Funerary Rock, the place from where to take the postcard picture of Machu Picchu. It's still a bit dark, as the clouds are covering the site, and the sun has not yet risen over the mountain range.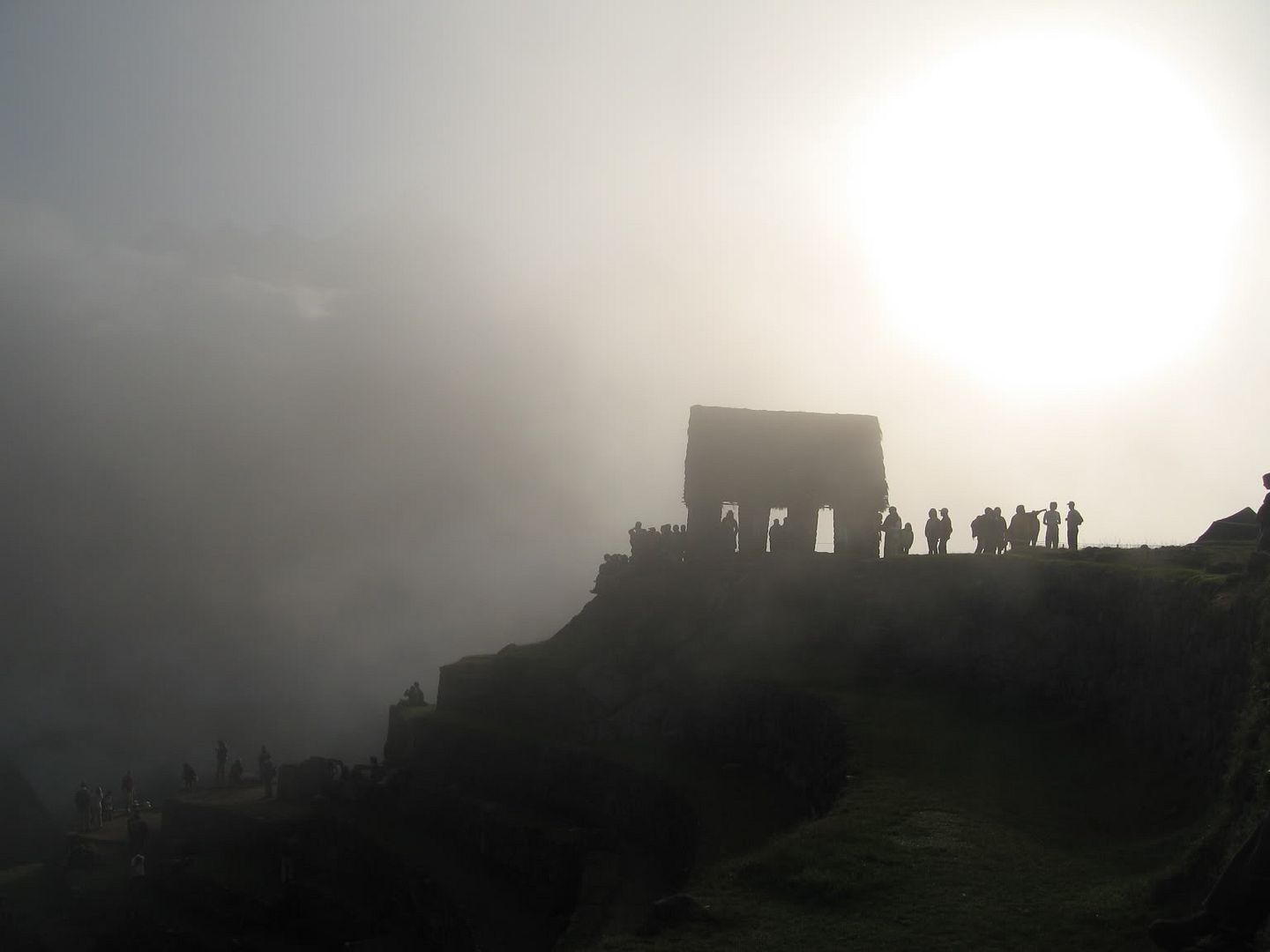 For about 2 hrs we watch the clouds lifting and the sun rising, until the complex is revealed in full. This is the reason for taking the early bus, and also the most magical part of the visit to the ruins.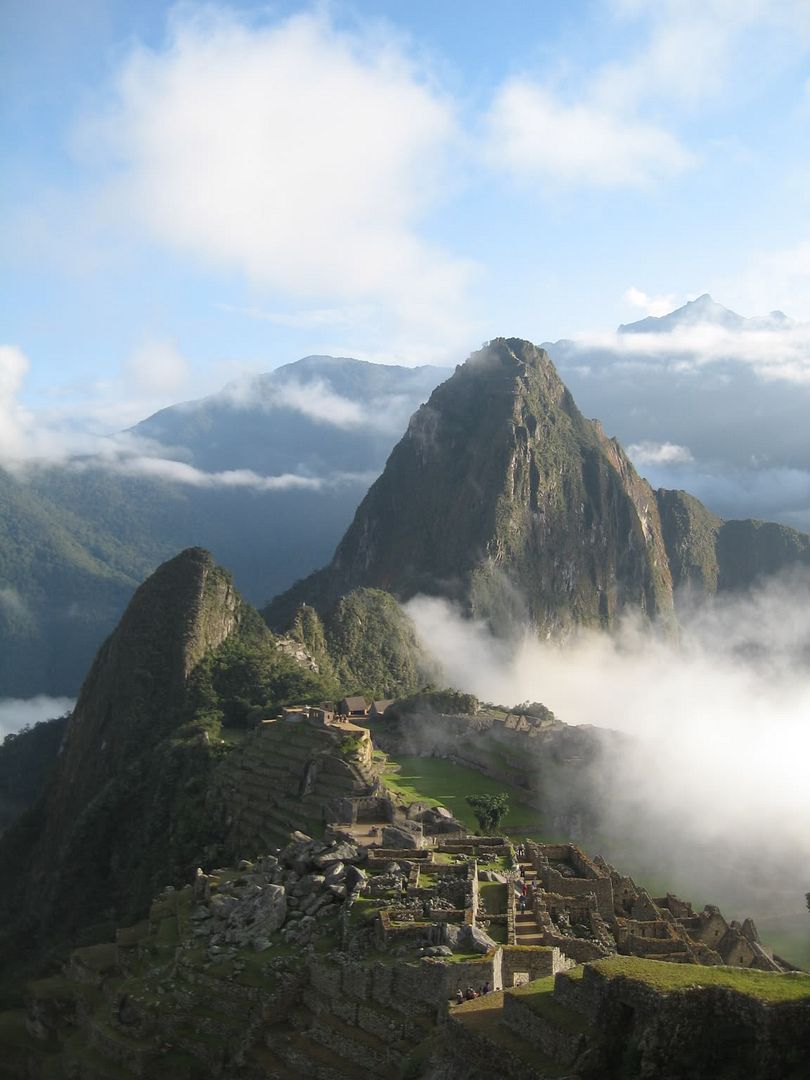 For the next 4 hrs we walk around the ruins, taking about 200 pictures.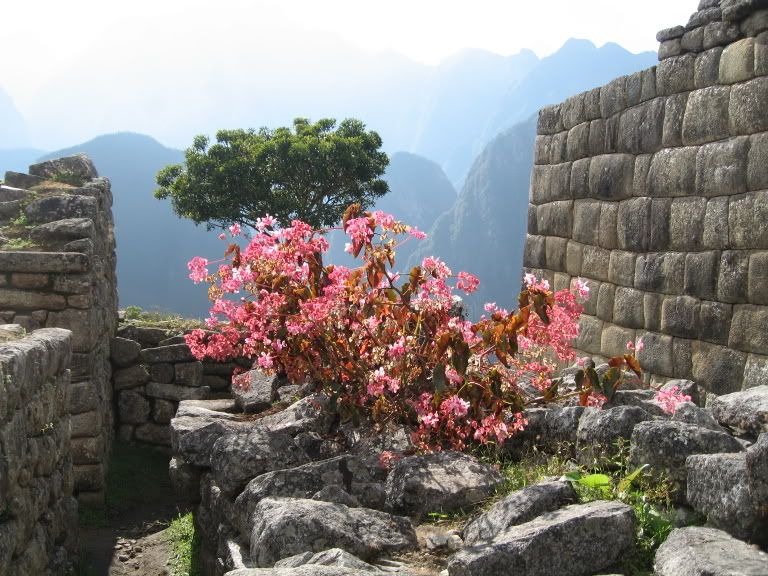 We also spend some time relaxing in the main square, together with a dog that apparently lives in the ruins.
After we've made sure to have seen every rock in the ruins, we head back to the bus, and go into town for lunch, and some internet while we wait till it's time for our train to leave to Ollantaytambo.
Saturday 17 May 2008 Cusco - Aguas Calientes
The train to Aguas Calientes leaves at 6.50, so we take an early taxi to the station.
We can leave our packs at the hotel, it feels good to be travelling light again for a change. The ascent out of Cusco is too steep to make normally, so the train uses a series of switchbacks to zigzag it's way out of the valley.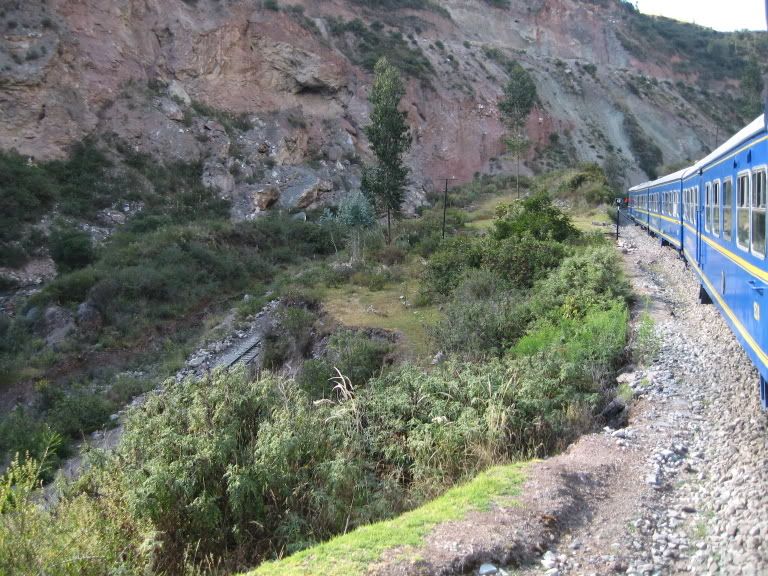 Once we get out of the city, the train follows the river Urubamba through it's gorge until we arrive at Aguas Calientes after a 4 hr trip.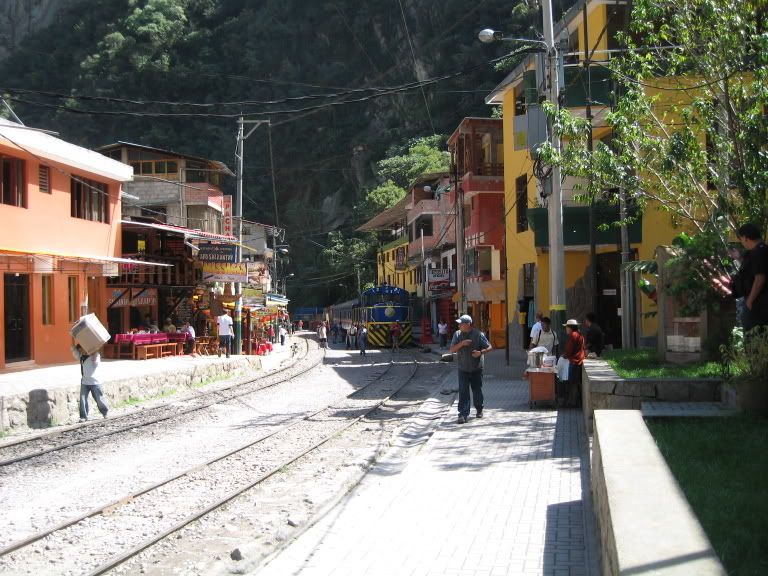 As we check into the hotel, it turns out the room that's booked for us is no longer available. So at first they try to stuff us into a tiny double room at the front, but as we settle in there, the recepionist comes back and shows us to what must be the best room in the hotel, with the best view!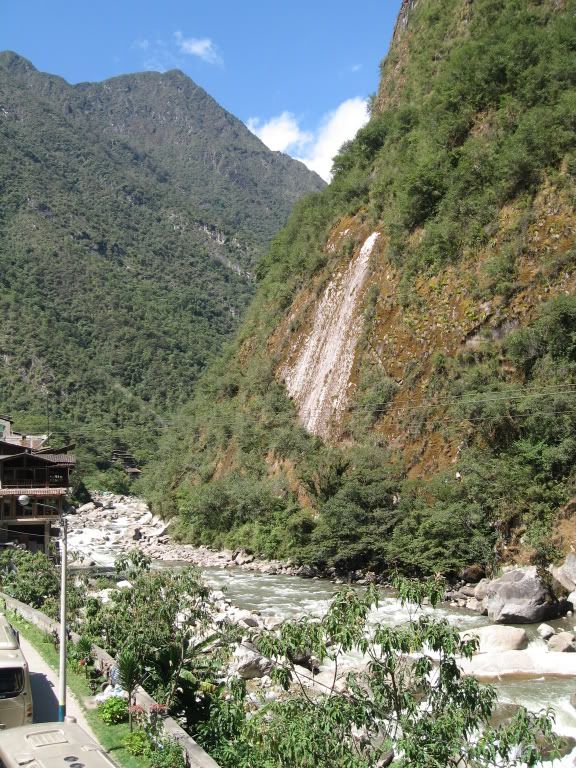 In the evening we go back into to town for dinner and I finally try the cuy, which is the guinea pig. It tasted pretty good, at least the bits where I could get some meat off, although a bit chewy.
Friday 16 May 2008 Cusco
After about 4 hrs of sleep we head to explore as much of Cusco as possible before we have to leave again.
We also have to take care of some things, like getting our tickets to Machu Picchu in advance and the combined ticket for a lot of inca ruins in the sacred valley that we plan on visiting.
We also visit the inca museum,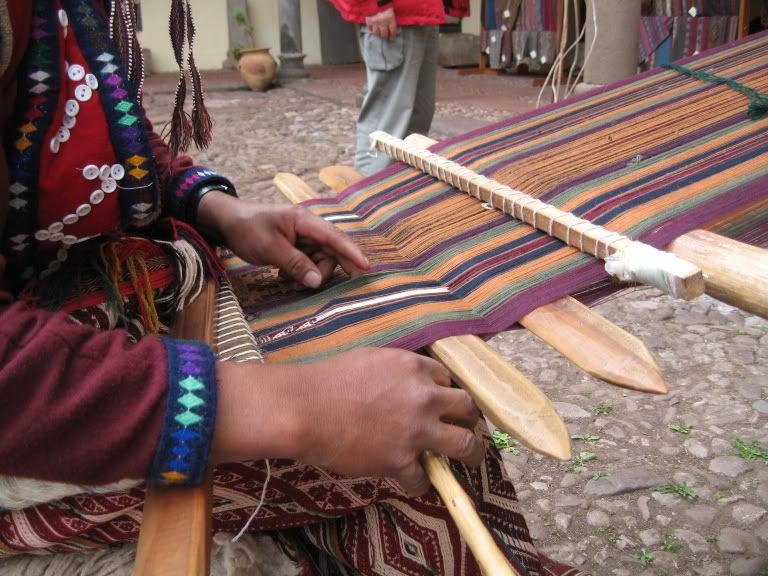 a church built on and around inca ruins,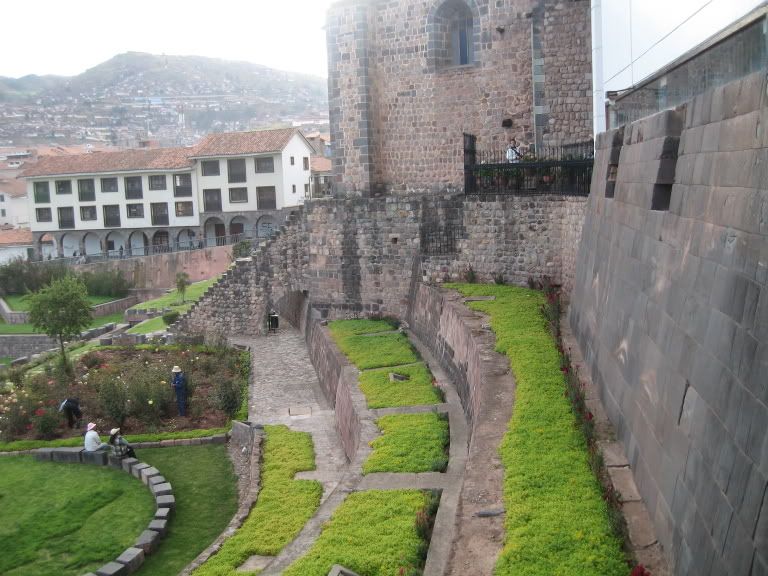 bought a new memorycard and had our shoes cleaned, before heading back to the hotel.
Thursday 15 May 2008 Puno - Cusco
The plan was to get on the bus to Cusco in the morning, so we would have the whole day there, but unfortunately there was a strike going on, so there was nothing going in or out of Puno. So we just walked around Puno for a bit, because the first bus we could get left at 21.00
The trip to Cusco took about 7 hrs, and it was a shame we had to do it at night, because the moonlit mountainranges passing by my window looked amazing. Since we arrived in Cusco in the middle of the night, we did get a transfer to the hotel, where we jumped into bed immediately.
Wednesday 14 May 2008 Amantani - Taquile - Puno
After waking up at 6 we don't even get breakfast, but we are all dressed in the traditional garb of the island, for a little early morning party. Although it's so very touristy, it's a lot of fun too, dancing in a field at 7.00 in the morning.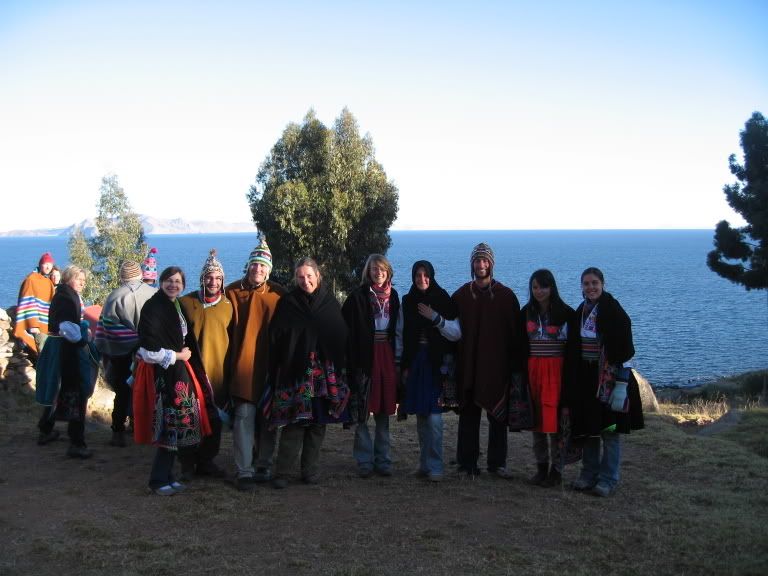 It also makes the breakfast so much better, especially since we get pancakes, made with the canned milk we brought as a gift!
After we say goodbye to our family we get back on the boat and in about an hour we reach the island of Taquile. We have to hike up the hill again for about 45 minutes to reach the main square.
We get some time to recover from the climb before we get a really early lunch.
It's a good thing I am one of a few to do have some lunch, because the return trip to Puno takes about 4 hours, and as we arrive nearly everyone is starving.
And since it turns out there's a strike going on, our transfer back to the hotel isn't available. So we just take another bike-riksja, and this time we are actually dropped off at the hotel!
Tuesday 13 May 2008 Titicaca excursie: Puno - Uros - Amantani
At about 7.30 we´re being picked up at the hotel. The little bus races around Puno, picking up other travellers till it´s completely packed. At the harbour we get some canned milk for our guest family, before getting on the boat.
Although the weather is supposed to be really clear normally, today it´s cloudy and cold. It takes about an hour to get to the floating islands of Uros. These are artificial islands, made of reeds, and also the huts are made of the same reeds.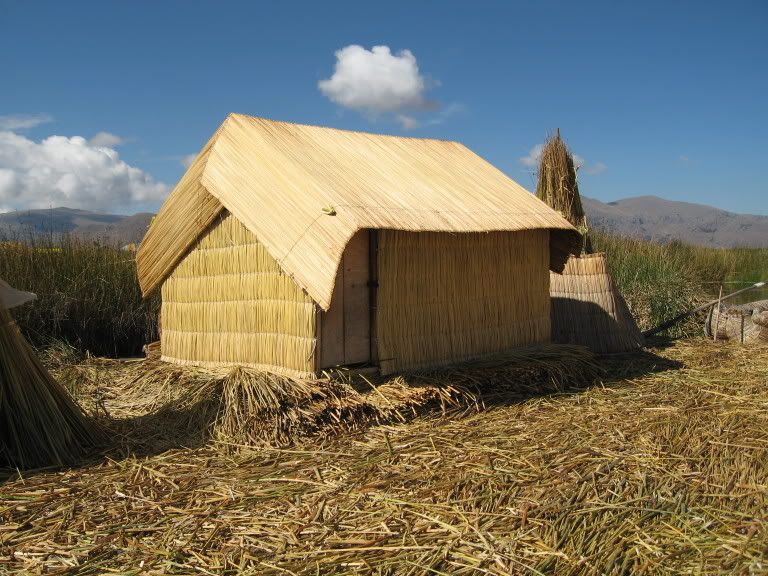 It´s quite special to see, but it´s also very touristic. The local women all have their usual souvenir stuff to sell, and at each island the tourist boats are coming and going.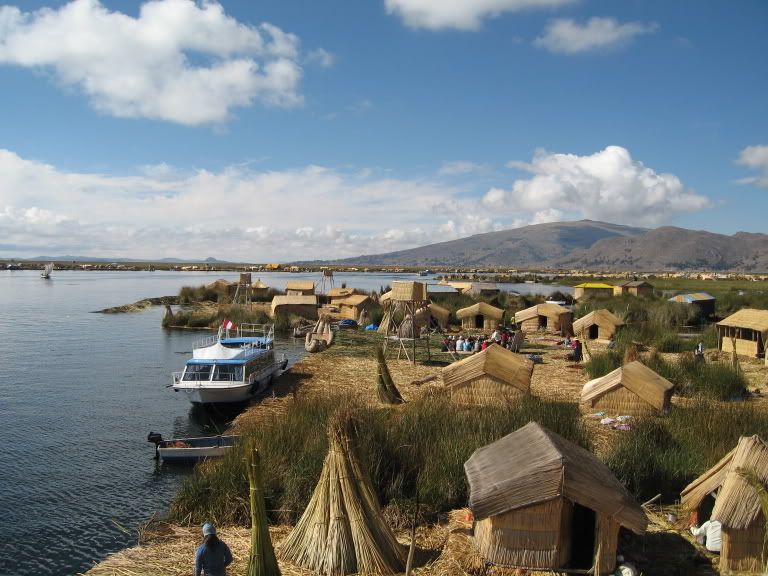 It takes about another 3 hours to get to Amantani, where we´re welcomed by the local community. Everybody is sleeping at a local family, and we share our family with one other tourist. After Juana shows us our rooms, we all go up to the communal square, where we gather for a hike to the top of the island. The weather is still not that good, and as we almost reach the top it starts to thunder, and although the hail shower makes it freezing cold, the thunderclouds make for some amazing views.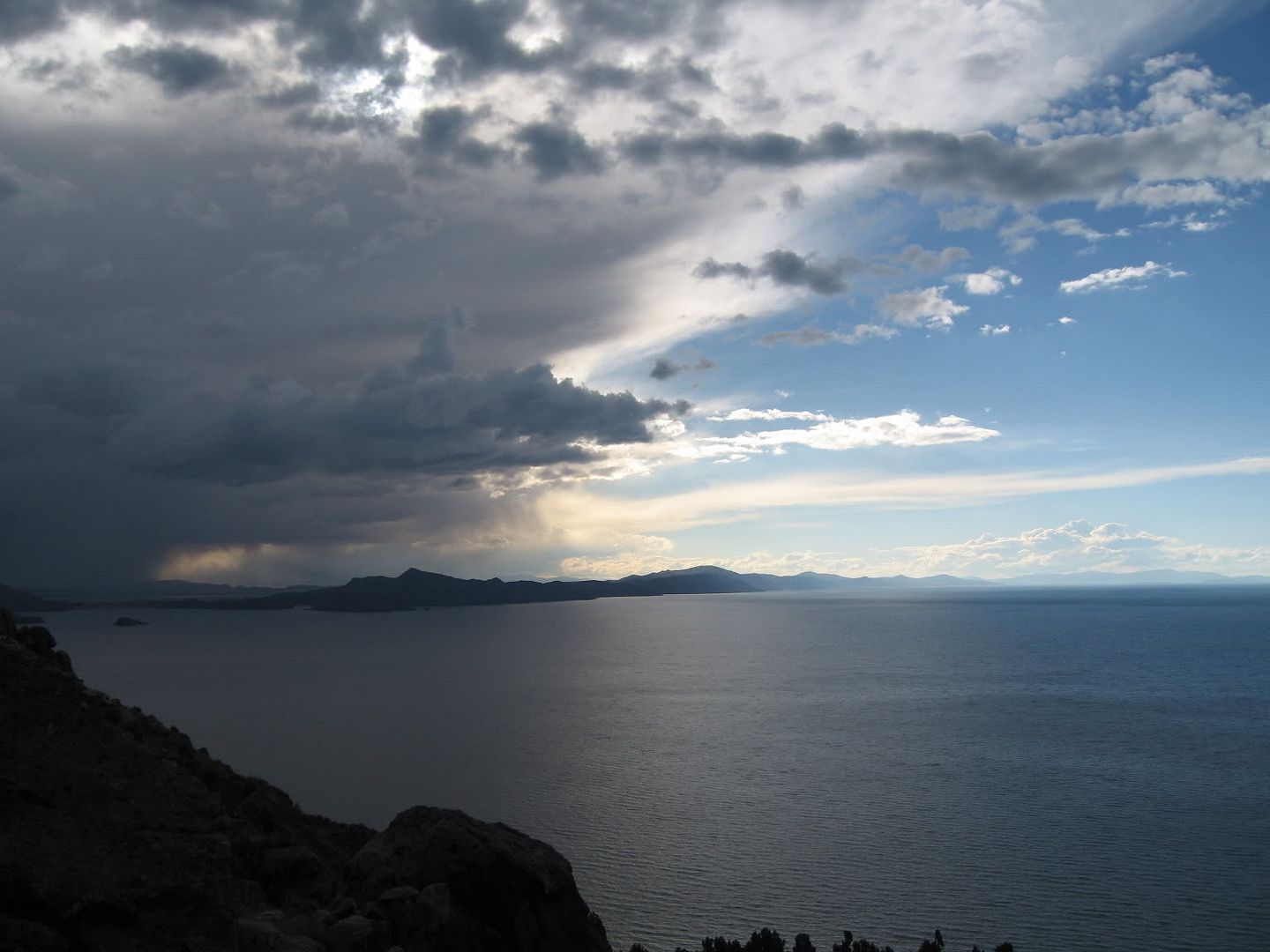 Monday 12 May 2008 La Paz - Puno (Peru)
Again a morning without breakfast, because we have to catch a bus. A taxi should´ve been waiting for us, cause I arranged that yesterday evening, but apparently that didn´t work out, so we have to get an other one. Luckily the busterminal isn´t that far, so we still make it in time.
The bus is a bit old this time, and the seats are kinda crappy, so each time you sit back, the seat goes into the reclining position. We do get a nice cuppa tea however, which is very welcome, because the weather is very cold. As we climb out of La Paz, and cross a pass at about 4000m, we even get some snow!
After a couple of hours of mandatory sleep we reach the border with Peru. We all have to get out to get our passports stamped at the Bolivian side of the border, then walk across a bridge, duck under a rope, and we´re back in Peru, where we get our passports stamped again. Then we have to wait for about half an hour, before we can get back into our bus. It´s still cold, but fortunately the sun is shining, so it´s not that bad.
Another few hours later, with stunning views over Titicaca Lake, we arrive in Puno. We take a bike-riksja to our hotel. Or at least we try to. Even though I tell the driver a few times to NOT take us to Plaza de Armas, he does so anyways. It´s a good thing our hotel isn´t that far away from the plaza, so we walk the last few blocks.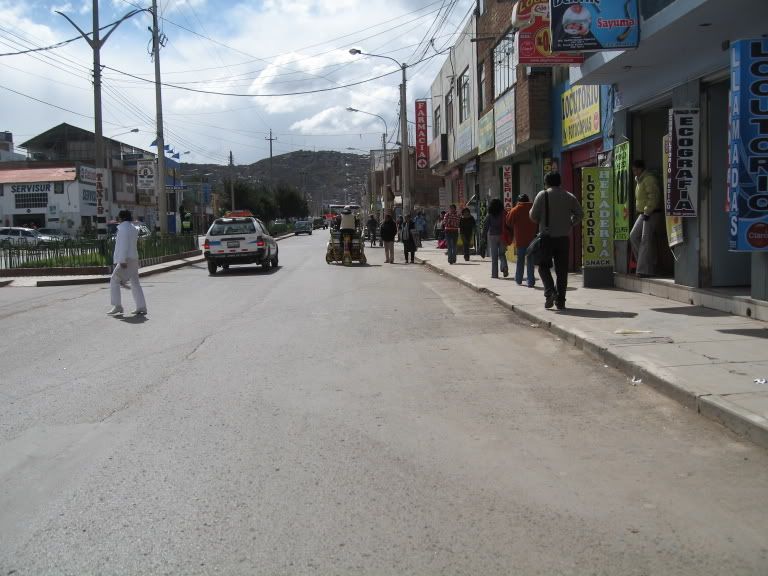 Being used to the soaring ceiling in our colonial hotel in La Paz for the last three days, the extremely low ceiling in this roomel feels a bit claustrofobic, but otherwise it´s nice enough. We drop our bags in the room, and go into Puno to check the time for our trip to Titicaca tomorrow.
Sunday 11 May 2008 La Paz en omgeving
Now it´s me that isn´t feeling very well, so we´ll just take it easy on our last day in La Paz. Probably make it an early night too, as we have to be at the busstation at about 6 tomorrow morning.
But still, we had a whole day to spend, so we walked around the city a bit, to take some more pics of La Paz. Since we´ve totally lost track of the days, we didn´t know it was sunday and we stumbled into the service for Pentecost while photographing the cathedral.
After silently leaving the service, we visited the witchmarket again for some pics, and the coca-museum.
Saturday 10 May 2008 La Paz en directe omgeving
Today we further explore the city. The hotel has provided us with a map of the centre of town, and our plan is to walk to the Mercado de Brujas (witchmarket) first, and then to the other side of the city centre for the Mirador Laikakota (viewpoint).
The witchmarket is only a few blocks away from our hotel, so we get there pretty fast. Apart from the usual touristy stuff, they also sell dried foetusses of lama´s, dried frogs and armadillo´s, other stuffed animals and things related to the local religion.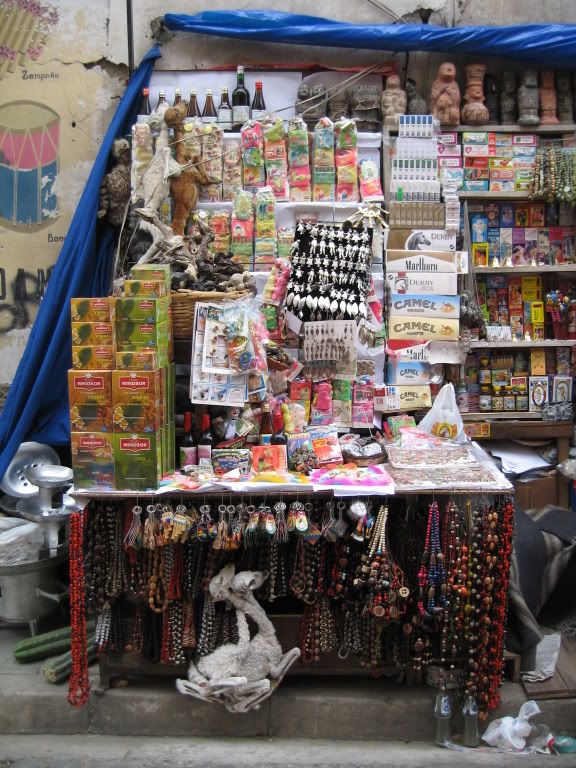 It´s a lot smaller than we expected and before we know it we´re back at the usual tourist shops, where Werner gets himself a new warm sweater (he has only one) and I buy two pairs of pants, the striped ones all the backpackers wear, but that are really comfy and thin and suitable for Curacao.
Bolivia is very cheap, and again we experience that here, as we pay less than 35 euro´s for a sweater and two pairs of pants.
We drop the new things of at the hotel before going back into the city again, as we try to find the Mirador we´re looking for. It´s quite a walk, but after some time we come across a city park. Although there´s a lot of poverty here, this park is filled with playthings for children, and maintained very well for the 3.50 bolivar (that´s less than 0.35 euro) they ask per person as entrance fee.
There are various swings and slides and a little area with some snacks vendors, and also the mirador, but most of all lots of local families spending a saturday afternoon at the park. We walk around and try to figure out where we came from at the mirador,
before having some lunch (fries with sausages and banana) and heading back again.
Friday 9 May 2008 La Paz, vrij verblijf
It is still dark when we arrive in La Paz. There isn´t really a bus terminal, it feels more like being kicked out in the middle of the street. We take a taxi that brings us to our hotel.
Luckily we can check in at this time, so not long after arriving, we can finally sleep in a normal bed at a normal temperature again.
We wake up just in time for breakfast, and since there´s an internet cafe right next to the hotel,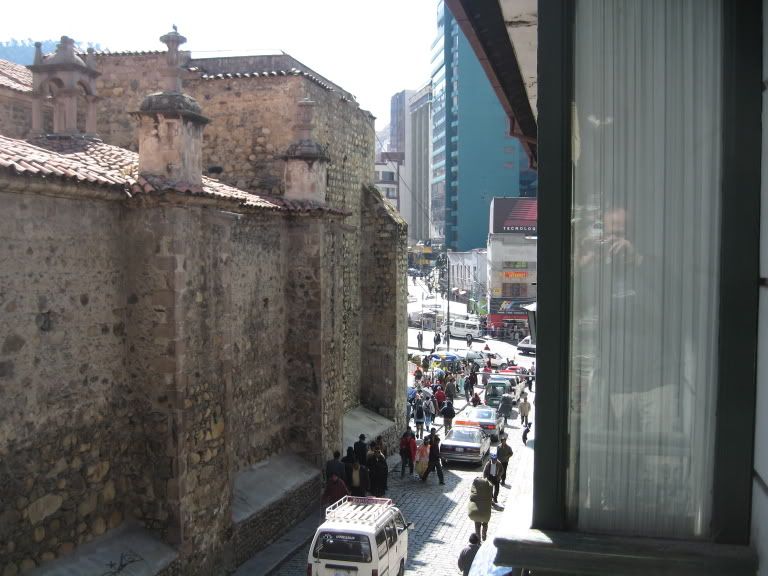 I spend the morning updating the blog.
In the afternoon we visit the San Francisco Cathedral,
and we wander around the neighbourhood, before settling into a cozy little bar/restaurant, where they even serve Dutch food, making Werner very happy.
While I have some tapas, Werner enjoys his Hollandse gehaktbal (Dutch meatball) with a Belgian beer, and I try the Bolivian mojito. The only difference with a normal mojito, is that they put in coca leaves instead of mint leaves.
Thursday 8 May 2008 San Juan - Uyuni - La Paz
Werner got up early to watch the sun rise over the plains, but it wasn´t as beautiful as we expected, so he got back in bed for a bit more sleep. After breakfast our driver loaded up the jeep, and we were ready to leave for a trip over the saltlake Salar de Uyuni.
It´s an immense empty white plain, and now and then we take a break to stretch our legs and take some pics.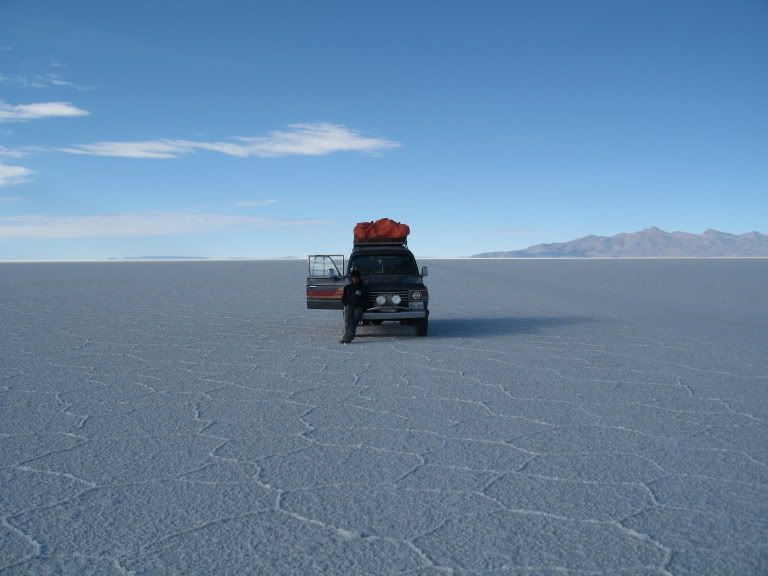 Very soon we see some hills in the distance.
These are islands in the middle of the saltlake, and we´re heading for one of them. For a small entrance fee we can climb to the top of the island, and enjoy an amazing view over the saltlake, and over the cactusfilled island itself.
When everybody is done photographing and walking around, we get back into the jeep, and head for Uyuni. On our way there, we make a few more stops on the saltlake, we visit the Salthotel,
and the place where they scrape the layers of salt of the surface and refine it.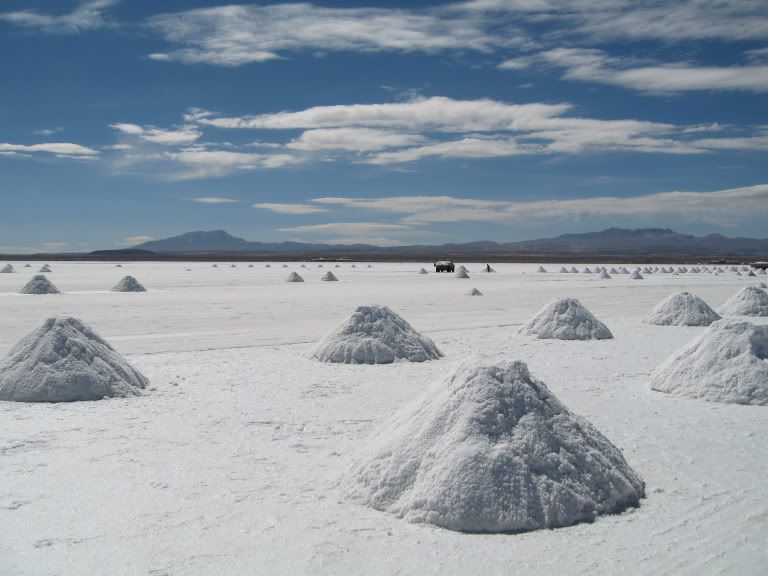 Driving into Uyuni is a bit of a disappointment. It´s mostly dusty and it seems very poor. Before dropping us off in the centre, our driver takes us to a traincemetery, where dozens of 19th century trains and engines stand abandoned and rusting away in the middle of dusty nowhere.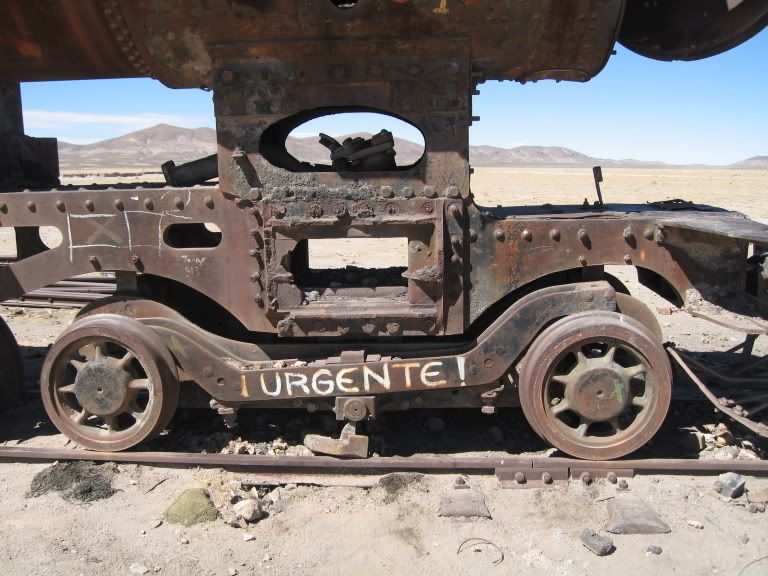 Our driver first takes us to an ATM, cause we haven´t had a chance to get Bolivian money. Unfortunately, the one ATM in town in out of order, so we start waiting, and each time one of us asks how long it´s gonna take, we get the same answer: half an hour....
After about 2 hours, the ATM springs to life, and we can finally get some cash. While waiting I had lots of time to worry about the absence of somebody to give us our bustickets to La Paz, as arranged by the travel agent.
So while we have lunch (a hamburger of indeterminable origin) in a very doubtful cafe-thingy, I work up the courage to start making some phonecalls to the local agent. But the owner of the establishment informs us that the phone is not working.
We decide to go back to the office of the agent who arranged the desert tour (we went there earlier, but he was closed then), and just as we´re about to make our way there, one of the girls of the other jeep comes up to us with a note with our names on it, and the message that we have to be at the busstation at 20.00 (we went to the busstation earlier too, but they didn´t open until 18.00).
Relieved by at least having this info, we go to the office of the agent, and he seems to be even more relieved when he gives us an envelope with all our vouchers and bustickets for the next few days.
Uyuni suddenly looks like a much nicer place. Relieved and much happier, we accompany our fellow traveller (the Dutch girl) while she tries to arrange a way to get out of Uyuni, and a place to sleep in La Paz. After everything is arranged, we have some more drinks and then we say our goodbyes as we head for the busstation.
The nightbus to La Paz is not bad at all. More legspace than I´ve seen before, and we even get a warm meal. Although the road is very bumpy, the bus is nice and warm, and soon I´m sleeping well.
Wednesday 7 May 2008 Jeeptour: Laguna Colorada - San Juan
Nobody has ever been happier to hear the alarm go off at 6.45 in the morning than our group. Nobody has slept, and we can´t wait to get back into the jeep, where it will be nice and comfortable, once the sun has warmed up the car.
Today we continue our bumpy road through more desert. Again we stop now and then to take pictures and stretch our legs. For instance at the stone tree:
A frozen lake: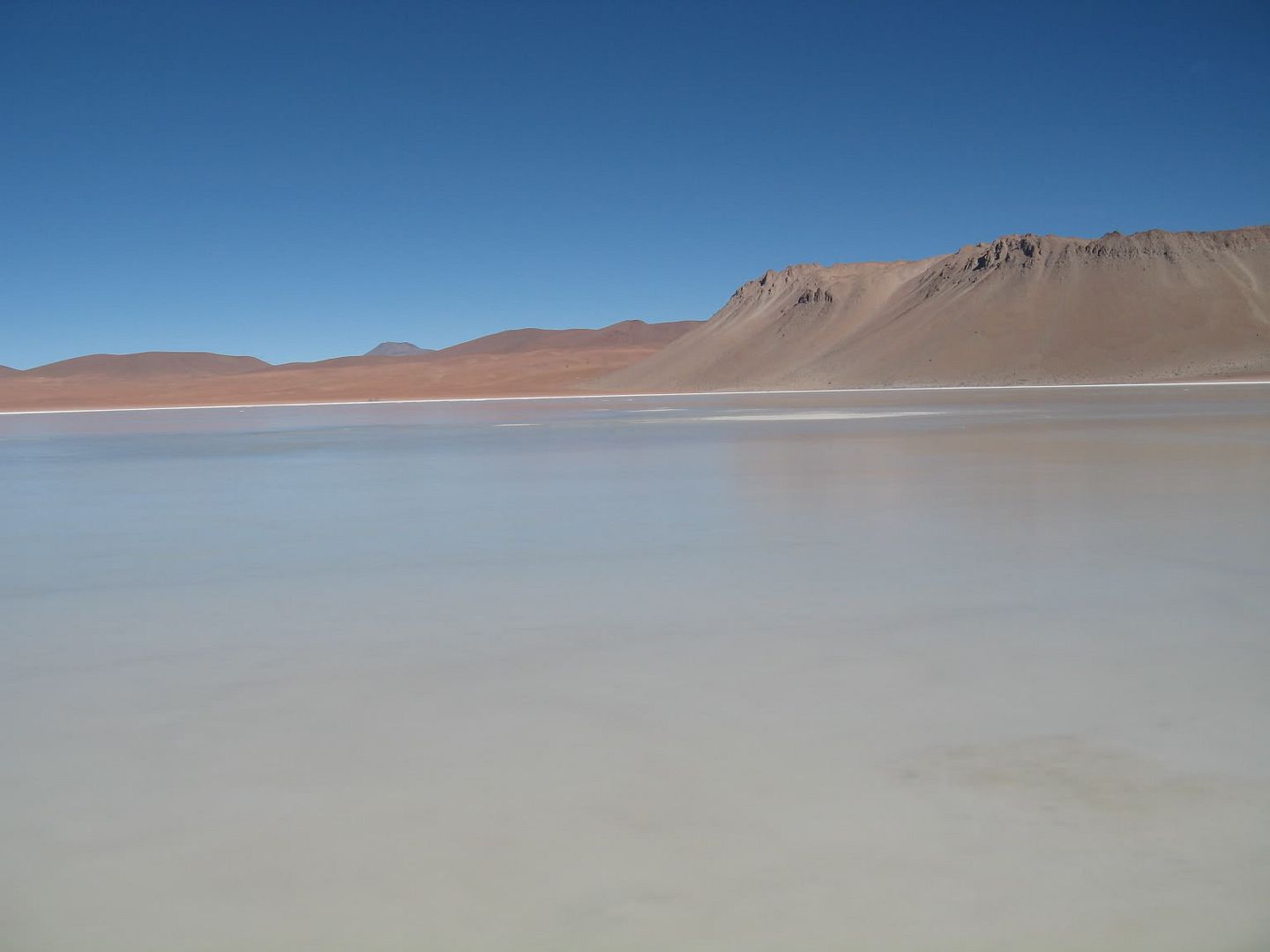 A field of strange rock formations:
For lunch we drive into something that doesn't even deserve a name.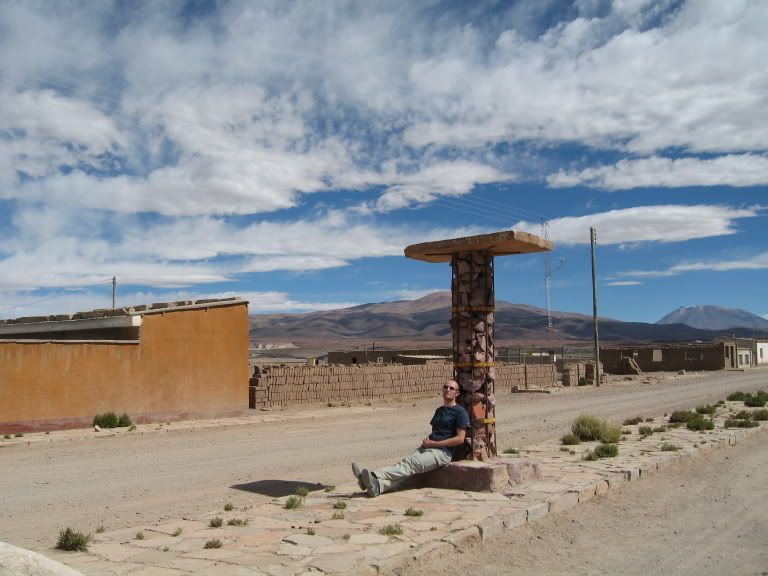 After lunch we get a break of all the dryness when we pass through llama-heaven.
In the afternoon we arrive at an almost ghost town along the railroad. There must be people still living there, because we see children playing, but most of the buildings are deserted.
Outside the town, there´s a cemetery, very creepy. Imagine an empty desert, and suddenly some crooked crosses breaking the horizon. It´s the perfect place for a horror movie, but we go and visit it anyway, even though we all scare each other with the possibilities of never coming back.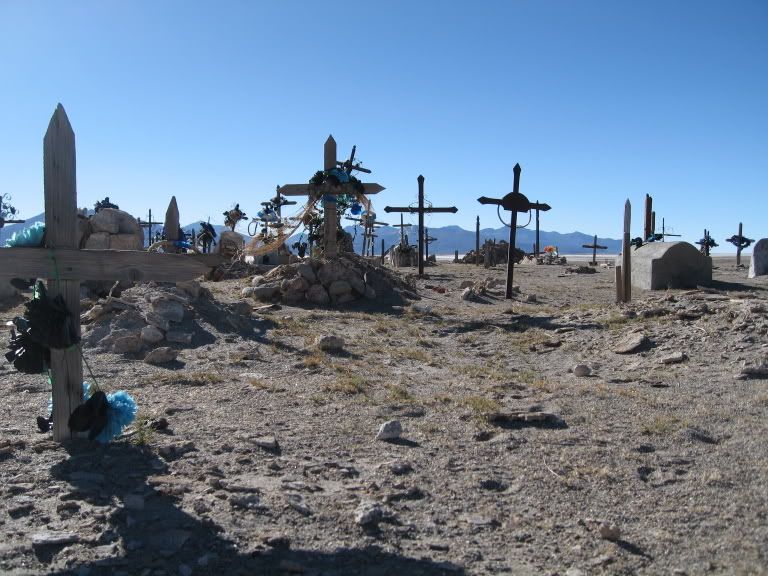 The last bit of today´s trip goes through more desert, but here the sand is a bit softer than before, and while making a turn, the jeep gets into a slip, and suddenly the wheels on the right are off the ground. Even though the driver gets the control of the car back, everybody is pretty tense for the rest of the trip.
But we reach our destination without any other accidents. This accomodation looks so much better than the last, and inside we are met by a little grinning Bolivian guy, asking us if we are the Dutch people. When arranging the holiday, I also tried to arrange something nice for today, since it´s our 4th anniversary. So now we are ushered into a six person dormitory, just for the two of us.
And in the dining room, there´s a little table for two set up.
The whole group gets a special dinner, and we also get a bottle of champagne. Since we can´t finish it alone, we share our bottle with our group, and by the time we get to bed, we have no trouble sleeping.
Tuesday 6 May 2008 Jeeptour: San Pedro de Atacama - Laguna Colorada (Bolivia)
At 7.45 we´re standing outside the office of the tour operator, shivering with the rest of the group. We pile into a bus, and are taken to the Bolivian border,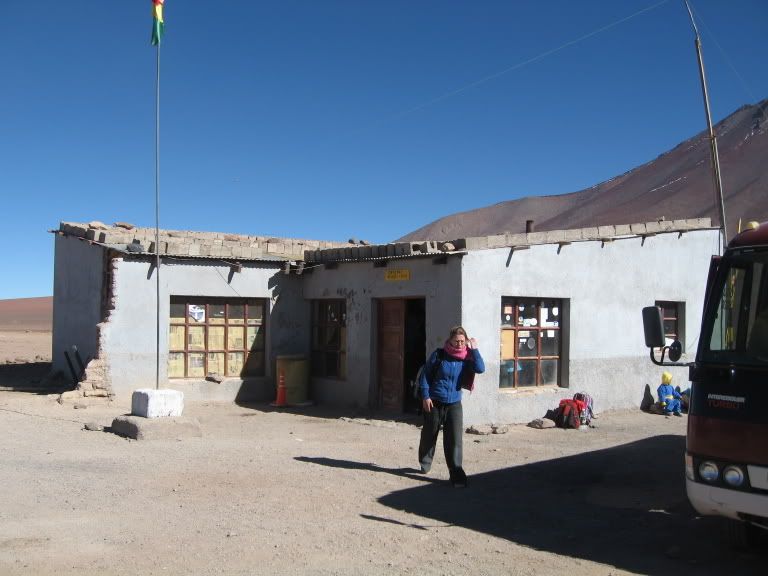 where we get a stamp in our passports and get into a couple of four wheel drives.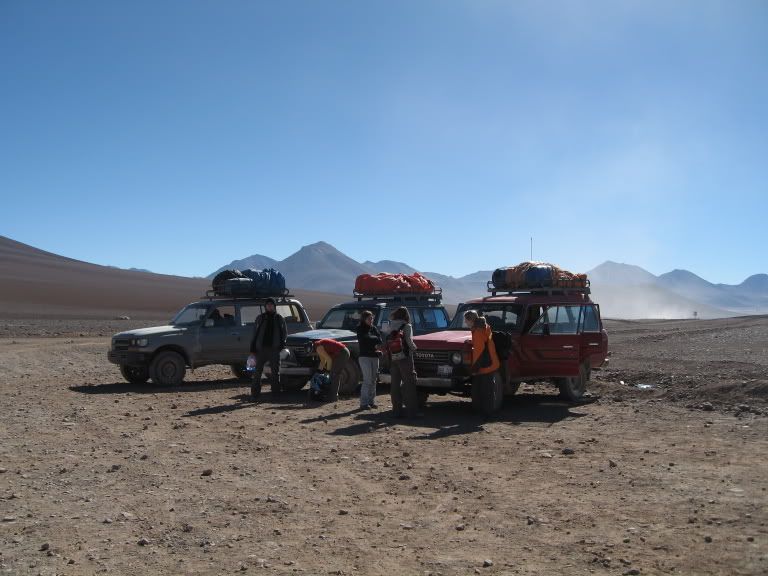 We´re driving at an altitude of about 4000 meters across an impressive landscape of snowcapped mountains, endless plains, green and red lagunas.
At pretty much every laguna the driver stops and kicks us out for taking pictures, but since it´s pretty cold outside, all of us are done quite fast. Still, we have lots of pics of things that are not really possible to photograph. Big empty plains, under even emptier skies, the photo´s don´t do it justice.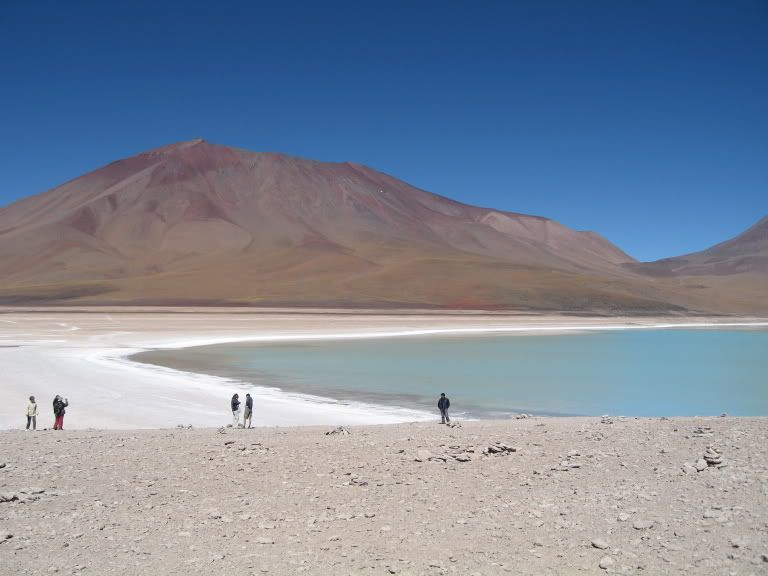 In the afternoon we reach Laguna Colorada,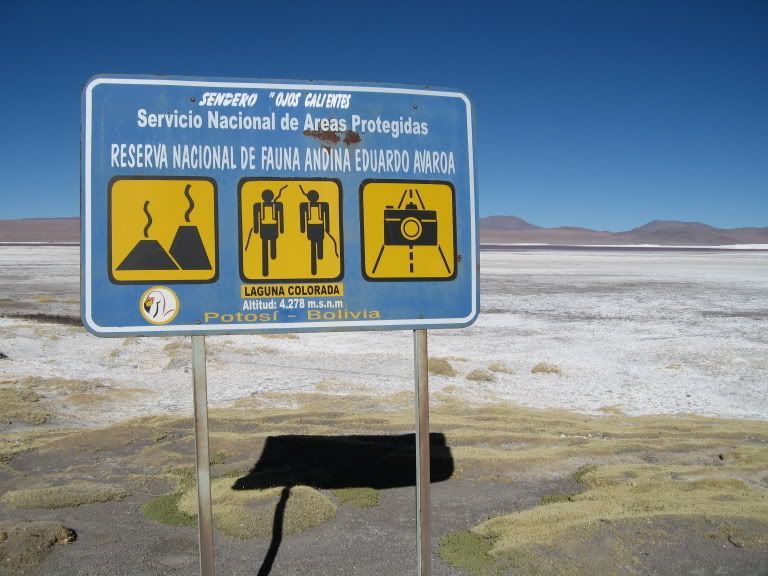 where we will spend the night. Before the sun sets, we walk along the laguna, with our jeep-group which consist of four Germans, us and one other Dutch girl.
We´re sleeping in very primitive dormitories, and the night is very very cold. But with about 5 or 6 blankets, the cold is the least of our problems. The beds are old, and even the cardboard boxes on the springs can´t make them any more comfortable.
None of us really sleep, and we are all secretly jealous of the other group, who gets to leave at 4 in the morning.
Monday 5 May 2008 San Pedro de Atacama
After having breakfast we walk to the stables just outside the town. We´re having a private tour, so it´s just us and a guide, who doesn´t speak any english. The trip is therefore very quiet, but wonderful too. Since the guide didn´t talk, he didn´t tell us the names of our horses, so we´ve been trough the desert on a horse with no name.
Two hours to get to an archeological excavation,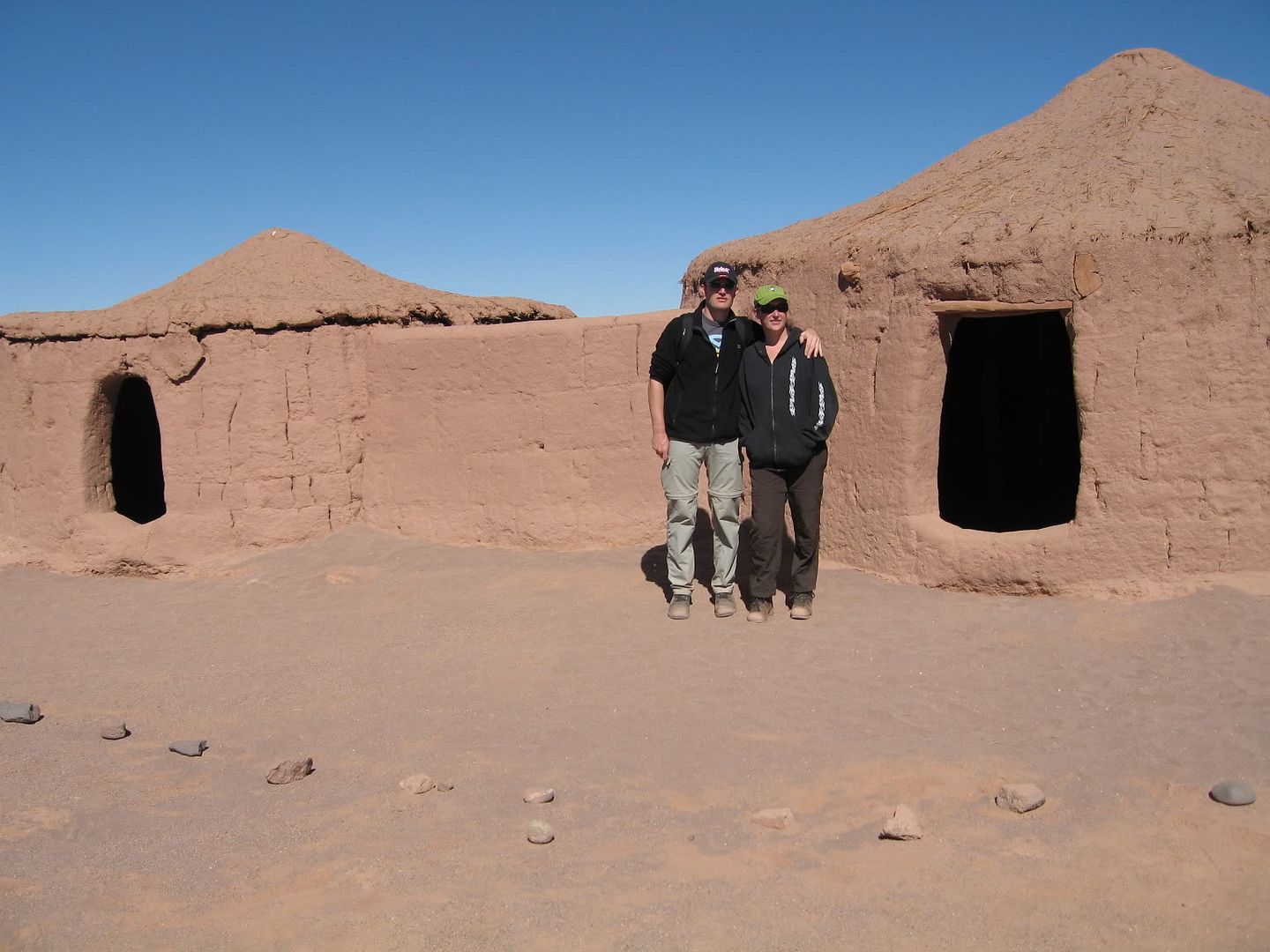 and about two hours back.
We still had some time to spend after this, so we visited the Gustavo Paín antropological museum, where they used to have desert mummies, but these were removed last year, so we were done there pretty quick.
In the evening we had dinner at the same place as yesterday, a cute little restaurant, with a big fire in an open courtyard, giving you a view of the stars while eating.